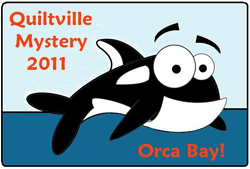 I have added the Orca image to my side bar today. I started the hourglass squares today. I got 9 done and then went to work. I will get sometime tonight to work on more. I am doing the triangles by starting with a 3 1/4" square of the two fabrics. I do not have many strips in black (three) to use. I think is is easier to cut the squares from yardage.
I have a few friends joining me in the mystery. Kathy, Margaret, June, Arley, Elizabeth, Kathryn, Laural, and maybe my mom Betty. I hope they will send me photos or post on there blog (Arley and Margaret have blogs) and then I can share them with you.
I thought I would show you the quilt I got done yesterday. This is a very large quilt made by Sarah one of my customers. It is her first really big quilt. I just love the colours, soft greens and blue with brown. We got a lots of snow in the past day and half so maybe after my husband plows the driveway Sarah and I can meet up and get her quilt back to her. Oh look there are hour glass triangles in the quilt.
Saturday is an agility fun match for me and my dog. It is being hosted by Sherwood Park Barks. I always look forward to these "Best Doggy Day Every".